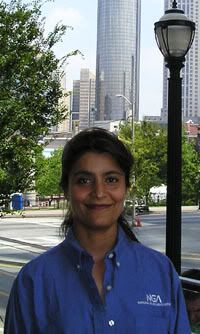 Good day from sunny Hotlanta. GlassBuild America brings me to this sultry downtown, with temperatures hovering around 90 degrees Fahrenheit; the asphalt on the streets adding to the sizzle with tire friction and car emissions.

City dwellers, however, seem conscious enough to not add their bit to the global warming. Either that or they just like the feel of zipping around town like an 8-year-old on his scooter with the wind in his hair.

It's the Segway PTs I'm talking about. While sitting outside and sipping a nice cool glass of water at Pacific Rim on Peachtree Center Avenue last night, I noticed a man on this little two-wheeled self-balancing device gliding past. Have you noticed these personal transporters? I don't see them up in Northern Virginia where I live, but these Segways, "the next generation in personal mobility," are at every street corner in the Big Peach.
On my ride back to the hotel from the Georgia Convention Center today, the cabbie, a 10-year Atlanta resident originally from Haiti, confirmed that with the hike in gas prices, the Segway has become quite popular in the city.
Invented by
Dean Kamen
and unveiled in December 2001, these transporters are produced by Segway Inc. of New Hampshire, according to Wikipedia. "The name "Segway" is a homophone of "
segue
" (a smooth transition, literally Italian for "follows"). PT is an initialism for personal transporter, while the old acronym HT was an initialism for human transporter."
Kamen claims that 500 million car trips per day in the U.S. are less than 5 miles and single-passenger, and if only a percentage of those used a tiny electric "car" instead, the positive effects could be considerable, Wikipedia says.
I can totally see myself ditching my Honda Civic for one of those slickers, but am not quite sure about those goofy helmets ...